https://www.habitat.org/volunteer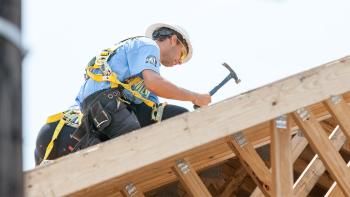 When I was a builder I built several houses for Habitat for Humanity and spent many evenings hammering out work schedules and other details as one of the committee leaders. What the anti-capitalists, some who have benefited from Habitat for Humanity by having a house built for them, don't/didn't realize or care, is that one hundred percent of the cost of the houses are PAID for by small, medium-sized and large companies. All the materials, plumbing, electrical, lumber, doors, windows, door knobs, sinks, toilets, showers, furnaces, air conditioners, carpet, linoleum, roofing shingles, concrete, landscaping, grass (sod), and the land the house is built on, is all donated by capitalists pigs. Oh, and cold hard cash, a lot of it, too. Multiply that by millions of house built around the world and that is a huge pile of money coughed up by mostly small local businesses who often do most of the work installing the stuff they donated. Most of the heavy lifting (work) is done by professionals (for free), not the volunteers.
Nevertheless, a good portion of volunteers worked their butts off and their enthusiasm kept things lively and it was a joy to work with them.
Some of the volunteers who worked under me when I volunteered to built Habitat homes were PAID by their companies to volunteer. It was a great perk, people got to get out of the boring office or warehouse to spend a day or two or three and sometimes more working outdoors at a job site. Some volunteers worked some hung around the goodies table eating donuts, drinking coffee and coke and gabbing as if they were at the water cooler back at the office. You can't crack the whip on volunteers. lol
Habitat for Humanity is a great organization that places millions of people into their own homes for a small monthly fee, who would otherwise never be able to afford a home. When I was doing it, years ago 200 dollars a month was the going rate to buy a Habitat house, and after a few years the people owned the house and could sell it. Those things might have changed.