Nature has known a way to produce clean, cheap, carbon-negative energy for over 400 million years -- and humans might be about to catch up. Scientist Daniel Nocera's
Artificial Leaf
uses nothing but the suns rays to split water into hydrogen and oxygen, much like
plants
have been doing for countless millennia. Where plants store these energy sources in leaves and roots and fruit and vegetables, Nocera plans for everyone to one day have
a personal hydrogen cell power plant in their home
.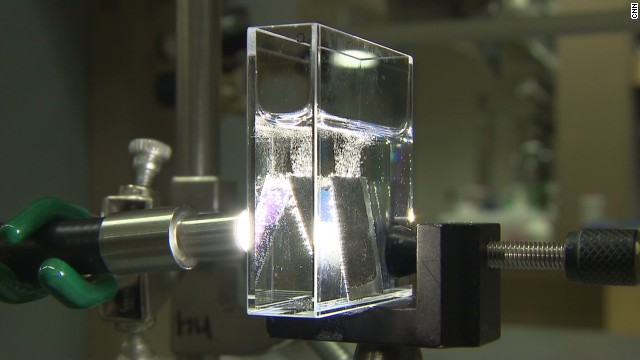 Years ago when I was an amature scribe peddling my experiences at one of the premier conspiracy sites in the world, ATS (where my "far out" stories made the conspiracy nuts look normal) a poster on one of my threads asked that I show them proof of alien technology. I told them to go and find a leaf, and they would have their alien technology. It wasn't long after that that my threads were moved from the prestigious UFO forum and placed into Skunkworks. Not a great promotion. Well, most, if not all scientists, in this article below and anywhere else on this planet, would agree that Skunkworks was too good for me, because I belong in a padded cell instead. LOL
At least some of them admit they are stealing (borrowing) technology that is far beyond their understanding and abilities. However, they are not stealing, they are back-engineering extraterrestrial technology, the most basic and simple form of technology in existence (training wheels on a tricycle).
Lou
(CNN)
-- When the body comes under attack by flu, dendritic cells rush to the site of infection and identify the alien forms attacking it. Millions raise the alarm and the immune system is fired into action.
It is a reliable and effective response, and what is good enough to protect our health has also proved capable of safeguarding inboxes. Artificial immune systems (AIS) based on the body's cellular response to disease are being used to target spam.
While the cells in our bodies will respond to signals such as stress and inflammation, Aickelin's software analogue picks up on the traffic bombardments associated with spam. While generic filters can cope with conventional phishing, the cellular system is suited to a user facing frequent new threats, and has been employed by leading security companies.
These principles are being applied to some of the most critical resource issues, including fuel through the development of biobatteries. Researchers at the University of Utah have created a battery based on the process of metabolism, using sugar as fuel, catalyzed with the natural energy conversion properties of enzymes.
"If you see a small child consume sugar they convert it to run around all day, so it's very efficient and we take the same pathways to apply to the battery", says lead developer Shelley Minteer, who claims the design has favorable performance qualities.
The combination of living process and synthetic materials is rarely seamless, Minteer admits.
Yet advances in the technology of modeling are now allowing greater control and accuracy. Scientists can sculpt the synthesized cells at nano scale into ever more efficient arrangements, getting closer to the natural design. Visualization tools are being driven by creative fields, notably architecture, while manufacturing is improving rapidly through 3D printing.
There are skeptics that believe natural processes are being too readily applied. "Natural systems evolved for very specific reasons, over millions of years, with very specific parameters, scale-lengths, forces, and the process of translating these phenomena to other scales, function and human desires does not come naturally or directly.", Skylar Tibbits, lead researcher at MIT's self-assembly lab, argued in a 2013 TED talk. "We should not simply assume that systems working at nanoscales can easily be translated to large scales."
Critics have also warned of 'Jurassic Park' unpredictable and unwanted side effects when natural process are transplanted into technology. Such effects have been noted in Uwe Ackelein's anti-spam program, where the target adapts the defense as well as vice versa.
But these risks pale compared to the potential benefits, exponents believe. Using the processes of nature can deliver designs uniquely adaptive to the environment, with better function and resource management, that can transform industries to deliver solutions to the most critical questions of the age.